Les Lagier, World Record Holder on Pole Position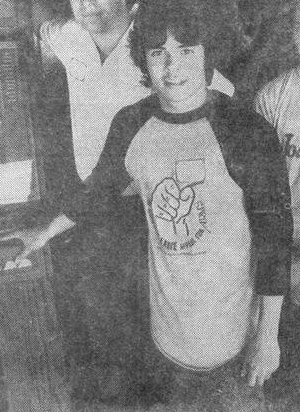 Les Lagier holds the high score on Pole Position to this day.
This news photo was taken on the weekend he set the record in 1984.
A little bit of history on Pole Position. When we added the game (sit-down version) at Video Paradise, Mike Klug started playing it constantly, getting better and better. Pole Position is a game of "perfection" and Mike was determined to be the best. There is a finite ending to the game so the better it is played the higher the score attainable. Soon after we added the game, Les Lagier, also a great player of the game, discovered that we had the game and were promoting it. We had put part of the "sound track" of the game on our answering machine. Once he heard it he came right over.
When we first added the game it was being played 24-hours a day with lines a lot of the time. So we added a second one (also sit-down) a few days later.
It didn't take long for Mike and Les to start competing with each other, constantly besting the other one. Their scores were always just slightly apart. This competition was instrumental in the ultimate high scores both Mike and Les attained. As each one bested the other one they found that the previous high score could be beaten. And it was, over and over again. They watched each other play, getting ideas on how to improve. They both got better and better because of it. It was very fortunate for both Mike and Les that they both lived in the San Jose area and could compete and learn from each other. They would regularly "race" each other, both playing at the same time. Other arcade players did the same with each other.
We closed Video Paradise in 1983 but kept the Pole Position game. Then for the Video Game Masters Tournament in 1984 we transported the game to the San Jose arcade where the competition was being held. It was there that Les beat Mike's high score (Mike and Les continued their rivalry there too). Since both Mike and Les were as close to perfection as anyone can be on the game, it seems that Les happened to pass one more car and attained the current high score. That score has never been matched and likely never will be.
Mike and Les are equally the best two players of Pole Position. Les holds the record but Mike is equally as good. To show you how hard it is to beat the record again, Mike has been trying for 35 years to equal Les's score (it can never be beat). Here's hoping that Mike can do it, it would be nice.
For those who would like to see the complete article and photo about the 1984 Video Game Masters Tournament held at the Space Shuttle Arcade in San Jose, click HERE.
Kinda wondering if the game that the top two high scores were made on is around anymore. It was a sit-down version and had a non-standard hole drilled into the back panel. If you happen to see a sit-down PP, take a look at the back and see if it has a hole that is not ordinarily on video games (it only had a purpose for us). If you do see this, write us with a lengthy description of what you saw. Include as much detail about the hole and what is around it (and where it is on the back panel) as possible. It may still be in northern California but it could be anywhere. Or maybe it has been sent to the junk heap already. It was about 35 years ago!